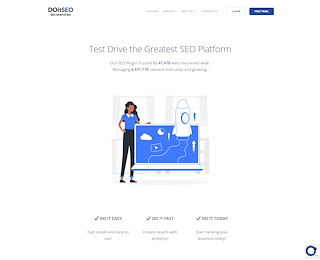 One of the essential parts of any good SEO plugin is real-time reporting. Ask any digital marketer about the significance of having access to real-time stats, and you'll have a 25-page essay on your hands. Not only do the reports show the keywords that a website ranks for, but they also show keywords that the website can rank for.
Couple with it the ability to monitor a website's link profile, and you can see the potential of a top of the line SEO report.
Therefore, it is safe to assume that good white label marketing solutions include top of the line white label SEO reports.
So, let us take a look at Do It SEO's leading white label SEO reports.
Live Link Data Report
When it comes to evaluating SEO plugins, there is no better starting point than live link reports.
In a nutshell, a live link report gives you a detailed view of your website's link profile. A live link report includes but is not limited to:
The quantity of incoming and outgoing links.
The keyword that a link uses.
Quality of the link
Consequently, to compare different SEO plugins, comparing their link reports is quite a good option.
Do It SEO's live link report is industry-leading. The report not only shows you the quantity of the links and the keywords being used for the link, but it also provides an insight into the relevancy of the link. To determine the relevancy of the link, Do It SEO's plugin gives every link a relevancy score between 1 and 5. So, the more relevant a link is, the higher its relevancy score.
Furthermore, the plugin even shows you where the link is placed on the website. It even allows you to disable any links you don't like. For instance, if you suspect a link is not relevant or low-quality, you can disable that link with one click.
Thus, if you are a digital marketer looking for white label reseller programs or a website owner, Do It SEO's link reports can help you achieve your ranking goals.
SEO Reports
No marketing campaign or SEO effort is a success until you know that your hard work is paying off. And to see if you are getting any results, intuitive SEO reports are a must.
Do It SEO's plugin has an excellent user dashboard. It is well designed, intuitive, and, more importantly, displays the information that a user wants to see.
The information that Do It SEO's user dashboard displays include:
Keyword reports that you are trying to rank for.
Ranking of your website against specific keywords.
Graphs showing your progress.
Keywords that you aren't trying to rank for but are improving, nonetheless.
A 'Google Health Check' which is an automatic system that scans your website and identifies areas where you can improve.
In short, Do It SEO provides prefect white label SEO reports to aid make your marketing campaign a success.
If you want to become a white label digital marketing and reseller partner, contact Do It SEO for a free demo/consultation: https://doitseo.com/contact/ (208) 639-9867.